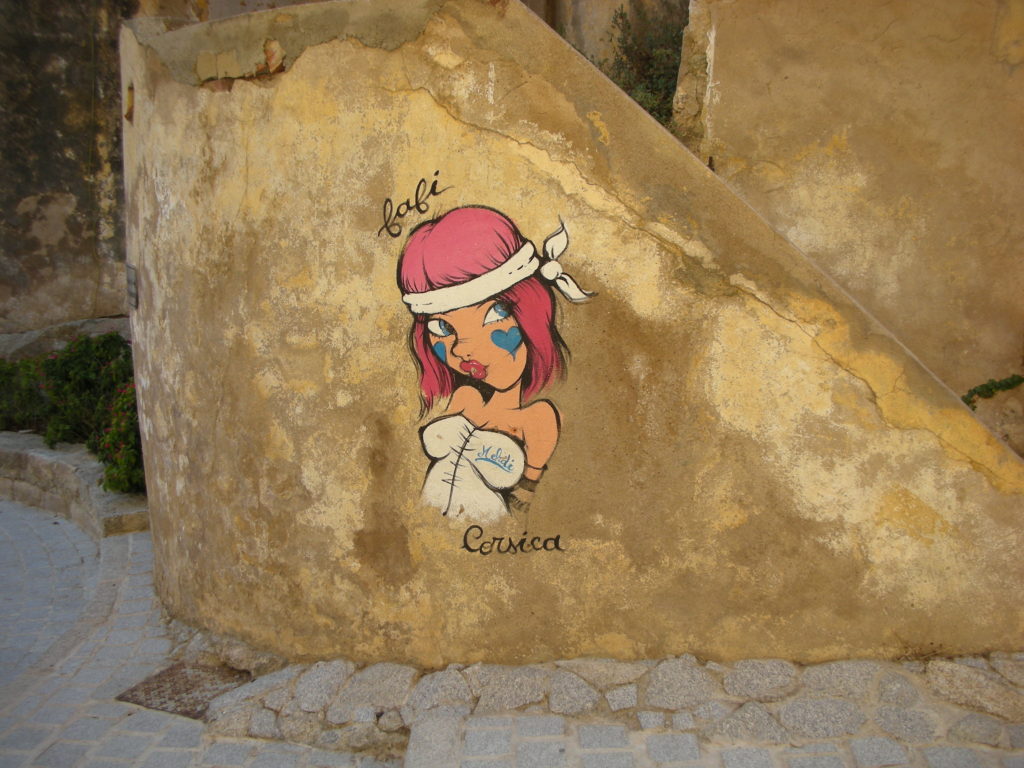 You count driving in hours, not in kilometers
You would never say "my village is 30 kilometers away", but "my village is one hour away". Because on Corsican roads, especially when tourists are creating traffic, 30 kilometers can take an hour. You are not fooled by those 2 little centimeters on the map; you know this will take the afternoon.
You are secretly superstitious
When you were a kid, you were half scared to death by your grandparents' scary tales of various mythical creatures, sorcerers fighting and predicting who would die, people being cursed by the evil eye… Of course now that you are an adult, you don't really believe in all this, but still, if you have a headache, you want to make sure that it's not the evil eye, just in case.
You have similar geopolitical views as the British.
Just like the British do with Europe, you call France "the mainland", as opposed to your island. And just like the British, in your eyes, your island is the center and the continent is the periphery. This is typical of island people.
Your family has a language complex
The Corsican speaking generation wanted to speak French, the French speaking generation wants to speak Corsican. You think Corsican is a holy language, but you are afraid of speaking it. You speak SMS language most of the time anyways.
You have a village
Even if you were born and raised in a modern apartment in a city, you still have a village. Maybe only your grandpa was born there, you might go there only on weekends or even just once a year, but it is still your village and obviously the most beautiful one in the world.
You always know where you will spend your holiday
If you live outside of Corsica, you know for certain where you will spend your holidays: in your village in Corsica, of course. You have a village, a tiny place where your family comes from, and it is the most beautiful village in the world. There is not a place in the universe where you would rather like to be. And why would you go anywhere else? People pay good money to holiday on your beautiful Mediterranean island, when you can do it for free.
When abroad, you suffer from massive homesickness
Most people get homesick at some point when they live somewhere else. But for you, it's a crippling disease that borders on clinical depression. Corsican poets even wrote songs about it. You miss your island like Adam and Eve missed the Garden of Eden. Things are especially hard if you live in one of those depressing, rainy, non-Mediterranean climates. Your family sends you survival packages of Corsican food delicacies like one sends clean clothes to a prisoner, but they can't send you the sun or the scent of the bushes. No matter how comfortably you live, you never feel truly at home like you do in Corsica. You have a mystical relationship with it: when you return, you feel like Alice in Wonderland, and when you leave, you cry. Every. Time.
You have been mistaken for an Italian at some point
There are chances your last name sounds Italian, so people assume you are from Italy, but since your first name is French, they get confused. And when you say you are from Corsica, you have definitely lost them.
When abroad, you have a love/hate relationship with the question "where do you come from?"
Technically, you have a French passport, but saying "I am French" feels wrong and incomplete. Most people assume being French means being from Paris, eating frogs and wearing berets, and that is not your cliché. So you answer that you are from Corsica and then you constantly have to explain your complicated identity. Yes, you speak French fluently, but you come from a Mediterranean island with a specific culture. Your national anthem is sung in Italian, you think Paris is abroad, you support Argentina or Brazil or any other team in the football world cup, the sweets of your childhood are called "migliacci" and not "croissants". Your identity is fucked up and you are tired of having to justify it.
French people assume the worst about you
A worryingly big number of them seem to have the illusion that you are one of these things:
A parasite who does not pay taxes,
A terrorist specialized in explosives
An incestuous mafia hood like Tony Montana. More worryingly, an even bigger number of them seem to be willing to forgive you if you agree to give them your house in Corsica for their holiday.
Some people want to be your best friends two weeks a year
A remarkable number of people suddenly want to be your best buddies when they are planning their yearly holiday. People who haven't talked to you in a year will suddenly become very friendly. Being invited to someone's house on a beautiful Mediterranean island is worth moving past any personal differences.
People are sometimes surprised at your physical appearance
It's quite funny how many (French) people actually expect you to look a certain way: namely, like Al Pacino in the Godfather. "What, a blonde Corsican?" Wait, does this qualify as racism?