1. Surfing
Yes, it's the Mediterranean sea, and in summer, it's often calm and mirror flat, which is all the better for those who suffer from sea sickness. However, on a windy day, you can actually surf in Corsica. One of the best surfing spots is Capo di Feno, north of Ajaccio. The northern coast is also quite good for waves. So if you are a surfing maniac, take your board with you, you never know!
2. Skiing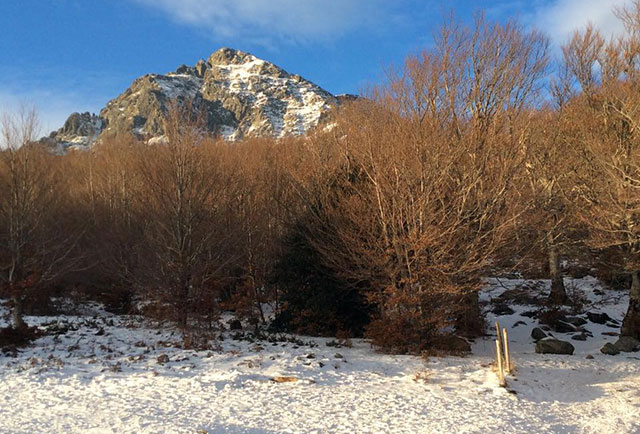 Did you know? You can ski while looking right at the Mediterranean sea. Corsica has the highest mountains of all the Mediterranean islands, with Monte Cinto culminating at 2706m, and 117 mountain peaks higher than 2000 m. Snowfall generally happens between December and February, but it's irregular and you'd have to check the weather first. Although small compared to their Alpine counterparts, the ski resorts offer beautiful views to the Mediterranean sea, and where else can you find that? Our Sardinian neighbors, who are not blessed with high mountains, often come to ski in Corsica. Here are a couple of places where you can enjoy a day in the snow:
The ski resort of Val d'Ese is located 1600m high, near the village of Bastelica, about an hour drive from Ajaccio. It has 9 slopes of various difficulties (20 ha) and 100 ha of outer slope skiing areas. Besides, the village of Bastelica is renowned for the quality of its traditional Corsican pork deli, so you can enjoy a delicious local liver sausage while tanning on the sunny slopes.
The ski resort of Ghisoni Capanelle is located at about 1800 m high on the side of the Monte Renosu (2352m), about an hour drive from Aleria on the east coast or from Corte in the center. It has amazing views to the Mediterranean sea.
Here is a YouTube video of what to expect on the slopes:
The winter climate is so pleasant in Corsica that on a sunny winter day, you can enjoy a ski slope in the morning and then drive down to the seaside in less than an hour and enjoy a walk on a sunny beach in light clothing. That's the magic of Corsica!
3. Seeing menhirs and dolmens
Dolmens and menhirs are not only found in Celtic areas such as Brittany or Cornwall. Corsica has the largest display of megaliths in the Mediterranean.
The most famous site is Filitosa, located south west near Propriano, which dates back to the Neolithic era and the Bronze Age. It has alignments of granite statues carved into human representations. You can see human faces on the statues, some look like impressive warriors with a knife. The site is very mysterious because we do not know why these menhirs are there and what they were actually supposed to stand for. The excavated area is located in an olive plantation and surrounded by a forest. Some olive trees are extremely old and give a majestic aura to the place. It is truly a magical place where you mysteriously feel at home, and you can't help thinking that our prehistoric ancestors had a good taste for finding the perfect area to settle.
Guided tours are offered also in English: visit the site for more information
The prehistorical site of Palaghju is located near Sartène, roughly in the same area of Corsica than Filitosa. It is the largest array of menhirs and megaliths to be found in the Mediterranean with more than 200 megaliths about 4000 years old. It is just as mysterious as Filitosa, as we still do not understand what purpose these stones were serving.
4. Seeing exotic animals
In Corsica you can see tortoises from the Galapagos islands. Yes, those giant ones, as big as a garden table! There is a tortoise park about half an hour drive from Ajaccio. It's called A Cupulatta which means… the tortoise, as you might have guessed. There you'll find plenty of turtle species, including those gigantic ones. This is the only place in France where you'll be able to see them. The common tortoise that you will find in Corsican nature is a bit less impressive, it's called the Herman tortoise and lives all over the Mediterranean. If you are lucky like me, you'll be able to see a couple of them going at it during your visit at the park. Those slow animals can be surprisingly active! And of course, when you stare at the old wrinkled face of a Galapagos tortoise, remember that they can live up to 200 years old, so this one might have seen Napoleon!
For more information about the park, visit their website